Jason Fell shares a thoughtful post, "The new, new rules of business marketing", building off the recent revised edition of The new rules of marketing & PR.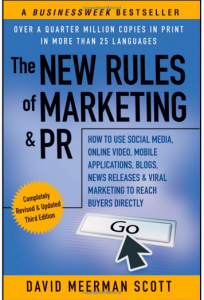 Let's take it one step further and note practical ways to apply these in support of your best customers and for those whom you want to become best customers!
Personas persuade.  Jason advises us not to hype your product or service (which comes off as very salesy), when you can use the same space to show how you solve a client problem for particular types of customers.
Don't just write a story: develop personas of the type of customers with whom you most often work or want to support and let them help you tell your story. Personas reflect more than just people who do business with your firm; they illustrate the dilemmas and needs lurking inside the heads of your customers.  The story behind each persona creates a draw amongst people perusing your business or your website.  Personas allow prospects to quickly  and emotionally connect to your business and help the identify with the type of personal needs or situation that lead them to become a customer.
Generosity is its own reward.  Share useful content on social media.  If you read any blogs about blogging, you have heard the phrase, "content is the new marketing". Content that quickly demonstrates relevance is simply the price of entry in a socially mediated world.  In a social media world, the key is to make it accessible through multiple approaches.
That is an admirable idea, but if you have a small business you may lack the bandwidth to stay on top of the fast moving world of social media and know which ones can deliver the best connection for you and potential customers.
Shameless plug:  Seeing this need in the marketplace, my brother developed a business, Social Media Accessories, to fill this precise gap for small and medium business owners.  Check it out if you have a small or solo business and can't find the bandwidth during the day to become a master of the social media universe.
Experiment with a changing world, but don't give up on what really works for you.   There are enough variations in marketing and enough people trying new things, that there is going to be at least one success story for every type of social media. The key is to stay curious, experiment and refine to fit your own business model.  That may include some very traditional ways of marketing as well as launching new offers via FourSquare (I know what you are thinking, FourSquare – so 2010!)
My point is that technology keeps evolving and surfacing new opportunities. Some will be game changers, some will just put a few points on the board, and some will distract you from what already works.  You have to be a good consumer of the opportunities to market to your customers.   Think of it less as getting swayed by the hype and more as developing a research orientation to what really works for your business.
So what are the new rules you have discovered about marketing to your customers?
And what are the old rules that are standing the test of time?
BestCustomerConnection, by Marc Sokol
Related articles
Tweet