If you were among the billion or so people who watched The Royal Wedding today, the word that should come to mind is 'Brilliant'!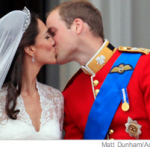 And your customer service function can learn valuable lessons from the ceremony and it's design:
1. Inclusive. Planning a wedding always leads to tough decisions whom to invite.  This couple had a clear view to include people who have made a difference in their lives, even if it be the butcher, the baker or the pub experience maker.  It says that they don't forget about the people (or in your case, the customers) who have contributed to your success along the way.
2.  Transparency. No, not everything is transparent, but clear efforts were made to let the important actions be visible to as many people as possible. For some it was being there in person, for others it was viewing from public parks on a jumbo screen, and for others it was staying glued to the telly early in the morning. Multichannel social media tools allow you to also be transparent to your customers.  It's not that they require identical access; rather, they require an access route that lets them feel adequately connected to your business.
3.  Intimacy.  Every commentator that I listened to this morning noted the special connection between William and Kate, the mutual respect, and the sense that they really are there for each other.  I don't care how carefully you monitor call time in your customer support center or if your contact center is modeled after the notion of 'fast, fun and friendly' to keep costs down; your customers want to know that you care.
4. Optimism. The happy couple are of course optimistic, but so are the observers all over.  The optimism is simply infectious. I even expect the London FTSE to rise today simply from the sheer joy across the country. Your customer service team needs to mirror that same optimism in a way the conveys the message, "I can help you".
Inclusive, transparent, intimate and optimistic – not a bad way for your customer service function to be described by customers and the employees themselves, don't you think?
Marriage is about the commitment to create a future together.  Don't you want that type of marriage with your customers?
BestCustomerConnection, by Marc Sokol
Related articles
Tweet